Archive of the victims of the Nazi and the Communist terror in Kraków 1939–1956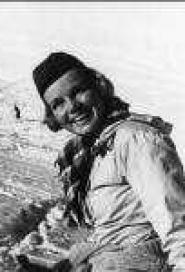 First name: Maria
Last name: Dzieduszycka
Nom de guerre:
Organization: Armia Krajowa (AK)
Parent's names:
Arrested in: 27.5.1944
Date of birth: 27.07.1913
Place of birth:
Date of death: 09.06.1945
Biographical entry
Maria Dzieduszycka, née Kostecka, b. 1913 in Jasło, ob. 1945 at the KL Bergen-Belsen, Irena Włodek's older sister. Maria Kostecka did Polish studies at the Jan Kazimierz University in Lwów. In 1936, she married Wojciech Dzieduszycki. In 1937, she gave birth to their son Antoni. She was a successful skier and took part in a number of international ski competitions, such as the Academic World Wintergames in Zell am See in 1937.
After the Soviets invaded Lwów in 1939, the Dzieduszyckis and the Kosteckis were subjected to repressions. Maria escaped to Kraków with her husband, son and close relatives. In September 1941, Wojciech Dzieduszycki was arrested by the Gestapo and deported to the labour camp in Pustków near Rzeszów; he was released in July 1943. In May 1944, Maria Dzieduszycka agreed to take to her dwelling for safekeeping a weapon intended for the Home Army (Armia Krajowa, AK). She fell victim of a set-up devised by a German informer; consequently, the Dzieduszyckis with their relatives and acquaintances were arrested by the Gestapo. Maria was interrogated in the building at 2 Pomorska St and detained at the prison at 7 Montelupich St. In July 1944, she and her sister Irena were deported to the concentration camp (Konzentrationslager, KL) in Ravensbrück; in August 1944, they were transferred to the KL Buchenwald. The two women worked at an ammunition factory in Magdeburg as inmates of the KL Buchenwald. Maria was qualified as unfit to work because of her lung disease, and transferred to the KL Bergen-Belsen on 9 January 1945. She died of tuberculosis at the camp hospital on 9 June 1945, shortly after the camp had been liberated by British troops.