Archive of the victims of the Nazi and the Communist terror in Kraków 1939–1956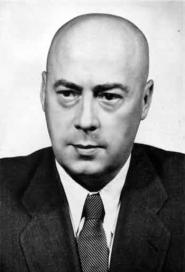 First name: Józef
Last name: Cyrankiewicz
Nom de guerre:
Organization: Polska Partia Socjalistyczna (PPS)
Parent's names:
Arrested in: 19.04.1941
Date of birth: 1911
Place of birth:
Date of death: 20.1.1989
Biographical entry
Józef Cyrankiewicz, b. 1911 in Tarnów, ob. 1989 in Warsaw, Socialist and Communist activist. A graduate in law at the Jagiellonian University, in 1935 he became secretary of the Polish Socialist Party (Polska Partia Socjalistyczna, PPS) in Kraków.
In September 1939, Cyrankiewicz fought with Germans and was taken prisoner, but he managed to escape from transport and return to Kraków. He became involved in underground political and military activity. Cyrankiewicz contributed to building the underground structure of the PPS-WRN in Kraków region (the abbreviation WRN stands for Wolność–Równość–Niepodległość, meaning Freedom–Equality–Independence; the PPS-WRN was the underground representation of the PPS). The PPS-WRN was part of the Polish Underground State and worked closely with the Union for Armed Struggle (Związek Walki Zbrojnej, ZWZ), renamed the Home Army (Armia Krajowa, AK) in February 1942. One of the operations organized by Cyrankiewicz was the release from the hands of the Gestapo of Jan Karski, secret emissary of the Polish Government in Exile based in London. Arrested in April 1941, Cyrankiewicz was deported to the concentration camp (Konzentrationslager, KL) in Auschwitz. In January 1945, he was transferred to the KL Mauthausen, where he was detained until the liberation. Having returned to Poland, Cyrankiewicz became member of the Central Executive Committee of the PPS already in 1945. He was among the Socialist activists who opted for close cooperation with the Communists from the Polish Workers' Party (Polska Partia Robotnicza, PPR). Cyrankiewicz was Polish Prime Minister in the years 1947–1952 and 1954–1970. He was a member of the Central Committee of the Polish United Workers' Party (Polska Zjednoczona Partia Robotnicza, PZPR) and president of the Society of Fighters for Freedom and Democracy (Związek Bojowników o Wolność i Demokrację, ZBoWiD). Cyrankiewicz presided over the Council of State of the Republic of Poland, the supreme governing authority in Communist Poland, in the years 1970–1972.