Archive of the victims of the Nazi and the Communist terror in Kraków 1939–1956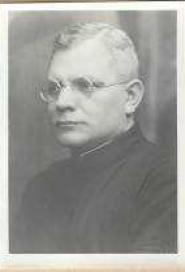 First name: Stanisław
Last name: Bednarski
Nom de guerre:
Organization:
Parent's names:
Arrested in: 8.7.1940
Date of birth: 1896
Place of birth:
Date of death: 16.7.1942
Biographical entry
Fr Stanisław Bednarski, b. 1896, ob. 1942 at the KL Dachau, Jesuit priest, editor of the Jesuit periodicals Sodalis Marianus and Wiara i Życie [Faith and Life], lecturer in the history of Christian art and the methodology of research work at the Faculty of Philosophy of the Society of Jesus in Kraków, member of a number of learned societies and charter organizations, author of booklets and articles on scientific and non-specialist subjects pertaining to Christian faith. Arrested by the Gestapo on 8 July 1940, he was detained at the prison at 7 Montelupich St, from where he was deported to the concentration camp (Konzentrationslager, KL) in Sachsenhausen; in December 1940, he was transferred to the KL Dachau. On the Good Friday of 3 April 1942, Fr Bednarski was subjected at the camp to what was known as the "pillar" penalty: his wrists were tied at the back with a small-link chain pulled through an iron ring attached to the ceiling, and he was suspended by his back-twisted arms a few dozen centimetres above the floor. Having him hanging in this position, an SS-man ordered the priest to say mass until the latter passed out. Persecuted like that, Fr Bednarski died of hunger and exhaustion from hard labour on 16 July 1942. The procedure for recognizing him as a blessed person has currently been under way.