Archive of the victims of the Nazi and the Communist terror in Kraków 1939–1956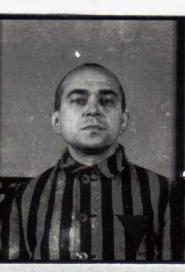 First name: Jan
Last name: Bałabuszyński
Nom de guerre:
Organization:
Parent's names:
Arrested in: 9.11.1939
Date of birth: 19.05.1905
Place of birth:
Date of death:
Biographical entry
dr, profesor gimnazjalny IX Gimnazjum im. Hoene-Wrońskiego w Krakowie. Został aresztowany 9 XI 1939 r. o godz. 1000w szkole.
23 XII 1939 r. przewieziono go wraz z innymi aresztowanymi do więzienia w Nowym Wiśniczu. Transportem z 20 VI 1940 r. został wysłany do KL Auschwitz ( nr  962).
21 I 1941 r. został zwolniony z obozu.