Archive of the victims of the Nazi and the Communist terror in Kraków 1939–1956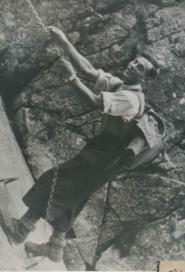 First name: Adolf
Last name: Liebeskind
Nom de guerre: Dolek
Organization: Żydowska Organizacja Bojowa (ŻOB)
Parent's names:
Arrested in: 24.12.1942
Date of birth: 1912
Place of birth:
Date of death: 24.12.1942
Biographical entry
Adolf Liebeskind, nom de guerre "Dolek", b. 1912, ob. 1942, lawyer by education. He came from a locally famous Zionist family from Kraków that was engaged in the Jewish social movement before the war which had as its goal the formation of a Jewish state on the territory of Palestine. Liebeskind was partners with Szymszon [Shimshon] Dränger. He was head of the underground Zionist organization Akiba and commander of the Jewish Fighting Organization (Żydowska Organizacja Bojowa, ŻOB) in Kraków which squared up to Germans hand in glove with Polish Communists. Liebeskind took part in a series of actions, during which he shot a German gendarmerie corporal and two Gestapo agents. He was also involved in preparing an assault on the Cyganeria Café in December 1942. Liebeskind was shot by the Gestapo in an attempt to arrest him on 24 December 1942.
This is how Jehuda Majmon, one of the youngest couriers in the ŻOB, remembered Szymszon Dränger and Adolf Liebeskind:
"Symek was a man whom one either absolutely adored, or could not abide. To his charges he was a god, a guiding light, an authority. There was no-one else for us in the whole world, even though he was tough on us. Dolek Liebeskind was a different kettle of fish. Not only was he a great man, but a finely cultivated person, too. One could talk to him about practically anything, not to mention confiding one's personal problems to him. It was not possible to have such conversations with Symek. One was to listen to him and follow his orders".
 Katarzyna Zimmerer: "Gusta i Szymszon". In: Midrasz 2005, no. 6 (98), pp. 19–22